This is a Sponsored post written by me on behalf of No nonsense for SocialSpark. All opinions are 100% mine.
How lucky am I?  I was given the chance to review No nonsense tights and leggings, and share my experience with you!
Let me clarify though, these aren't the No nonsense pantyhose you grew up with, the new No nonsense tights and leggings make it easy to add a modern and stylish touch to your outfit, in a fun and relevant way.
My day to day style is pretty relaxed but I do like to look 'put together'.  At my day job that has a 'business casual' dress code, and just around town, I try to look stylish, while not sacrificing comfort.  I was given a pair of black No nonsense Great Shape leggings for this review so I put them under a sweater with some fun boots and headed out the door looking polished and still feel comfy!
As a busy mom and wife, it's great that No nonsense tights and leggings are available at food & drug stores, as well as mass retailers, so I can drop them in my cart as I'm doing my regular shopping.  
I also received these black No nonsense tights, they're so cute, I can't wait to wear them to the office!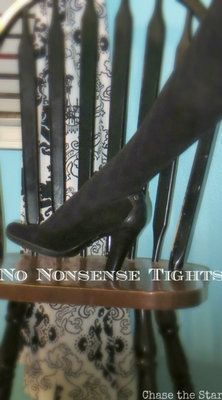 No nonsense has a new 'face', her name is Jill Martin and she's a t.v. personality and co-author of the book "I Have Nothing To Wear", and a correspondent on Access Hollywood!  Check her out and learn more about No nonsense on Facebook, and keep up to date with their latest styles on Twitter.
I'm excited to come up with more fun and stylish outfits with No nonsense tights and leggings, I think I'm going to get myself some colored tights to brighten up my winter wardrobe!  
What's your fashion style?
The following two tabs change content below.
Barbara is a lover of all things creative, simple, and budget friendly. Chase the Star began in 2012 as a creative outlet and to chronicle her DIY and crafty adventures. She is a working mom and wife residing in sunny Southern California.
Latest posts by Barbara @ Chase the Star (see all)