It's important to me that my family uses eco-friendly products within my home.  I believe that the cleaner we live the cleaner our bodies will be, and in essence the more we can prevent diseases and keep our families healthy. The Honest Company offers products that are not only designed to be safe and sustainable, but beautiful, fresh, and fun. 

I received a wonderful array of products from The Honest Company, and I must say I was hooked after the first try!



The package I received was wrapped in a colorful and beautifully designed box, filled with hues of blues, corals, and olives.  Shades  I absolutely adore!  It consisted of Laundry Detergent, Healing Balm, Shampoo & Body Wash, Face and Body Lotion, and Hand Soap, all certified organic, and hypoallergenic.

My son has had some patchy rough skin on his cheeks due to the dry Santa Ana winds we get here in the late summer and throughout the fall.  I used the Healing Balm directly on his cheeks for soothing.  The rich, calming, emollient lotion left his cheeks smooth and after using it daily for just a few days, the Healing Balm healed his skin and restored those smooth baby cheeks (well 4 year old) that I love to pinch and smooch!


I also used it to soothe my dry hands, I love how they feel!


The Honest Company's products are not only effective,  but they're safe, and eco-friendly, affordable, and convenient.  You don't have to run out to your local store to pick it up, you can order it online and it magically shows up on your doorstep!  Gotta love online shopping!  Another big plus for me is that the company was co-founded by Jessica Alba, not only a great actress, but she's a MOM.  Who can we trust to know how to care for and protect families like a fellow mother? Jessica's a mom, a wife, and she honors the environment–sounds like any one of us! 
The Honest Company was started by a mom and a dad who, like many modern parents, were increasingly worried about products made with questionable chemical ingredients. But the alternatives they found were often expensive, inaccessible, bland, or ineffective. In response to this clear need for something better, they created The Honest Company to ensure that parents (or anyone for that matter!) could easily find natural and non-toxic eco-friendly products that are beautiful, effective, and affordable. From customized product bundles to diapers and wipes to an ever-expanding line of cleaning and personal care products, you can find everything you need at Honest.com and have it delivered directly to your front door.
Give it a try! Click here to become a member of The Honest Company community and start your free trial today.
This is a sponsored post written by me on behalf of The Honest Company. The opinions and text are all mine.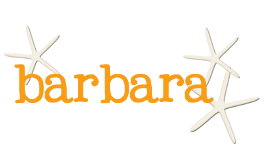 The following two tabs change content below.
Barbara is a lover of all things creative, simple, and budget friendly. Chase the Star began in 2012 as a creative outlet and to chronicle her DIY and crafty adventures. She is a working mom and wife residing in sunny Southern California.
Latest posts by Barbara @ Chase the Star (see all)